Innovation in Healthcare
At the beginning of the year CLIC were successful in being awarded a grant from the Health Foundation for Innovation in Healthcare. We were one of just 22 teams selected from hundreds of applications nationally. The award was to use an innovative, evidence based approach to understanding how teams work together around patient pathways called Relational Coordination.
Relational Coordination measures the quality of relationships and communication involved in the coordination of work processes. This is the first time in Cumbria we have measured relationships in order to improve our work processes, focus has previously been on the work process alone.
This project is using the Relational Coordination survey to evaluate the current inter-team dynamics of two pathways of care and is working with the teams to improve performance and clinical outcomes. The two pathways working with CLIC are – Chemotherapy team at NCUHT and Mental Health crisis within the new MACAS, Multidisciplinary Acute Crisis Assessment Service.
We are currently at the midway point through the project and both teams have been surveyed. Results are being reported back to them and planning for the next phase of improvement work within the project has begun.
A bit about Relational coordination
Relational coordination is a mutually reinforcing process of communicating and relating for the purpose of task integration.
Relational Coordination:
Drives quality, efficiency, satisfaction, and engagement
Is enabled by effective management practices
Matters most for work that is complex, uncertain, and time constrained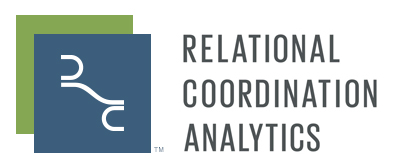 Relational Coordination empowers and engages teams to improve team and organisational performance. Through use of the Survey, organisations are able to diagnose critical communication and relationship patterns that underlie team performance. This allows organisations to structure and build working relationships that enable continuous improvement and supports ongoing development through progress monitoring.
If you would like to know more about Relational Coordination or the Innovation in Healthcare, Health Foundation project please contact Rachel Fleming Rachel.fleming@northcumbriaccg.nhs.uk